On's formal training was that as a concertise of the classical guitar. On became recognized as a frequent recitalist in his native Cleveland, Ohio throughout his teen-age years.While in High School, On also played with a popular rhythm and blues 'soul' band and jammed in 'garage' bands. But it was the continued training as a concertise with Christoph Harlan that culminated in studies at the Hochschule for Music and Performering Arts in Vienna, with On arriving there at the age of 19. There, On studied as a protege of Luise Walker.

Luise Walker was known along with Ida Presti as one of the "Les Grande Dames de la Guitarre" during her reign as one of the most important concert guitarist of her generation.
In New York, On studied in the open classes with Barry Harris but mostly was schooled in 'jazz' on the bandstand playing next to the countless music greats that came to rule here. Over the years, On has been involved in making music of nearly every genre.
On has worked with avant gardists, with rockers, jazzers, in the theatres and in the recording studio. Of especial note, On has played together with such artists as Sun Ra as a member of his Arkestra, Don Ayler in his septet, Charles 'Bobo' Shaw in his Human Arts Ensemble, Luther Thomas, Denis Charles, Khusenaton Shu Amon and Phillip Wilson. On's decades-long association with reedmen Daniel Carter and Sabir Mateen and with drummer Thom Corn began in the middle 90's when they collaborated with bassist Dan O'Brian to form the group 'The Future".
On had been the musical director of the ensemble 'Impossible Space Circus of Sun Ra', an effort that brings together Sun Ra Arkestra alumni members of which have included bassist Juini Booth, vocalist Al Jenkins and trombonist Dave Davis and trumpeter Cecil Brooks III. Other contributors have been Nick Gianni, Dalius Naujo, Avram Fefer, TomChess, Andre Lassalle, Monica H, Aaron Whitby, Graham Haynes, Paul Meurens, Welf Dorr, Jun Miyake, Richard Bennett, and Dave Treut.
On produces cds for his publishing house, On Mu Music (ASCAP), that feature his collaborative efforts as well as his leader dates, having so far released 28 titles. These efforts have included such artist as Luther Thomas, Daniel Carter, Matthew Shipp, Juini Booth, Sabir Mateen, Radu Ben Judah, Tess Marsalis, Andrew Lamb, Jojo Kuo (Fela Kuti), Marie Afonso (Zap Mama), Francis Mbappe, David 'Riddim-Athon' Pleasant, Nick Gianni and Electric Meg Montgomery to name just a few. On has also contributed to numerous other recording projects lead by other artists.

On has been a featured artist on many of the programs at WKCR radio of Columbia University in tributes to Jimi Hendrix, Alice Coltrane and James Brown along side with such noted musicians as bassists Melvin Gibbs, and Kim Clarke, guitarists Vernon Reid, Jef Lee Johnson, Nick Russo and Andre LaSalle, and also drummer Victor Jones, The station has also featured On as leader with the groups Cartoon Satellite and Djuke Obbo!' in their own featured live-in-the-studio sessions.


photo: Colin Faber
Another project lead by On is Nth which has featured "LT" Luther Thomas (saxo-aholic), Juini Booth (keyboard bass), Jojo Kuo (drumset), Terry Atkins (tenor saxophone), M Nahadr (voice), Patrick Brennan (alto sax), Dalius Naujo (drumset), Tamango (drumset), V. daNeesa Monk (bass), Dave Smith (trombone), Itsu (trumpet) and Dixie Lee Estes (vocals).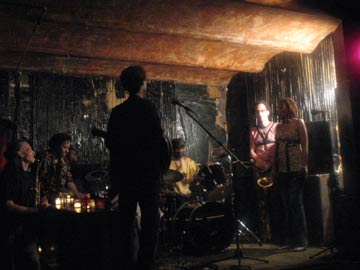 ( Patrick Brennan, Juini Booth, Tamango, Jojo Kuo, Nick Gianni, Dixie Lee Estes)
photo: Dina Dean
On leads two other projects. X-Ray Search Light Project is a continual studio endeavor. In a live performance setting, this ensemble has a 4 piece neucleus (guitar, electric bass or keyboard bass, drums, horn and laptop). On works electric and acoustic guitars, synth(s), electric violin and space horn.
The other project is the Famous Original Djuke Music Players, the band which develops what On has coined 'djuke!' music.
On is also a writer of researches with a published book entitled, 'Exerciricle; Keys to Museo Ontology' (On Mu Press).

This work probes the creative process as a series of aphorisms using the study of meta-physical and nature laws to serve as references so that one may achieve their highest creative potential. Other researches are forth coming.