ON -
beautiful music. ....david pleasant is doing these fantastic rhythms.
peace
pb
Hey man I got your cd. Thanks for that. I see you got the music and design factors working. Thats great. The music is still free and full of possibility. I dig it bro.
JPB
Jean Paul Bourrelly
This is another smooth move congrats and bear down...
PAX Thom Corn
Congratulations On...Keep flying.
Blessings,San
Gary Heidt's 'GWAABO' .....a precision trio combining rock soul country punk and jazz elements of CCR Creem Fugazi Jimi Hendrix Experience Minutemen Link Wray Ventures James Blood Ulmer On Davis Butthole Surfers Allman Bros Willie Nelson Waylon Jennings Stooges etc
My drummer said we should cover one of your tunes. He was like, "you can play that, right?" Huh. I guess I'm going to have to watch your fingers next time. Anyhow, I"m going to try to sit back and visualize a really asskicking On Davis and his Famous Original Djuke Music Players / genERAlhoSPItal double bill.
ON DAVIS AND HIS FAMOUS ORIGINAL DJUKE MUSIC PLAYERS-- On Davis, veteran Sun Ra sideman. My girlfriend says he sounds like Hendrix, but she's a painter and I think she means he looks like Hendrix; he definitely is a Gypsy Chile. I think he sounds like Blood Ulmer at his best on Freelancin'. But he really only sounds like On Davis, he's a true original with a bionic guitar. The band sounds a little like prime Minutemen.
....the cd was some powerful energy! I'd never before really heard guitar played with "free style" jazz, and it really added another level to the Muzik. We will definitely be taking a celestial journey with your music!
Respect,
Keturah J.
On Ka'a Davis on guitar....an experience.....like chewing aluminum foil!
FEATURES
Kenney Wollesen has put a super group together with Tony Scherer and On Ka'a Davis to blast in the new year...come to party and rock out at at this famed jazzed spot, 55 Bar .....we play all night!!!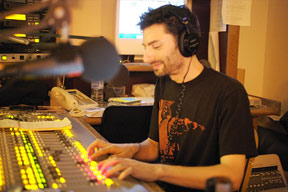 photo: Colin Faber

WKCR 89.9 FM radio of Columbia University presents Charles Blass' "Audio Gumbo"....live!!!
webcasting at www.wkcr.org...!!!!!!
feature artist profile: On Ka'a Davis
with invited special quest for a live in-studio performance:
of the group "Cartoon Satellite"......
Nick Gianni (bari. sax)
Dalius Nojo (drums)
Daniel Jodocy (kaos box, real-time sequencing)
Thierno Camara (bass)
Weth Dorr (alto sax)
Tomchess (el. tenor sax)
WKCR 89.9 FM radio
Tribute to Alice Coltrane!!!
presented by dj host Charles Blass
TRANSLINEAR PLAYERS -
.Nick Gianni - reeds, flute, Paul Meurens & Avram Fefer- reeds, flute, Andre Lassalle - guitar, Ganasaraswatidevi Paula Jeanine - voice & perc & swarmandal, Richard Bennett - keyboards, Gary Lucas - guitar, dobro, electronics, Tom Chess - oud, ney, flute, Dawoud Kringle- sitar, Aaron Whitby - keyboards, Vin Scialla - drums, perc, .Bopa King Carre - perc, Jorge Amorim - moroccan drum, Tim Dahl - double bass, On Davis - guitar,
On performs with drummer Kenny Wollessen as a member of Kenny's "Wollessonics" on September 30th at Roullette.
Kenny Wollessen's Himalayas at central park Summer Stage: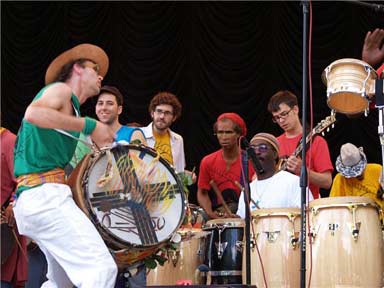 photo: Garrett Bradley
COUP RULE.....The real deep freaky freak out avant guarde jazz and eclectic afro pop trio, featuring the true mystical modernist visionary space brother,ON DAVIS on guitar, multi instrumentalist and one-man Sanga, NICK GIANNI, on bass, and BOPA KING CARRE, on drums!!!!