DJUKE MUSIC!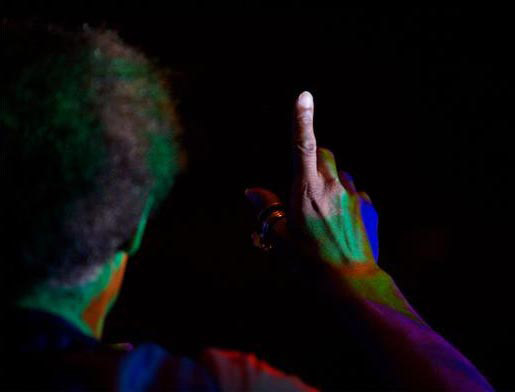 ..the name comes from the Wolof language of Senegal, West Africa and it means to 'get up!'…to 'pull up' or to 'draw '. This word survives scattered in the Americas found both in African-American as well as in Apalachian culture as the word 'jook'. Most familiarly is the application of this word to the name of the 'hide-away' dancehall atmospheres popular in the rural south during the 1920's and 30's known as a 'jook joint'. Here the meaning refers to 'jerk' or to 'jump up' . Another familiar application of the name was given to a popular dance created socially by African-Americans during the 1960's called 'the jerk', all the while with a popular Jamaican dish preparation by the same name!
First conceived from the squat scene in New York City's Lower East Side during the middle 80's, this heliocentric music offers lilting pulse beat groove rhythms pushing cool chant downs of sensualities and edged comments. The sound palette mixes horns blowing over sub atomic basses, creating e-tronic resonances of abstract jazzes. Teamed with backing vocals, all is painted by a virtual-real guitar-scape!
Djuke Music presented in a 'classical cultural' concert setting may have the ensemble perform seated on a large rug on the stage floor. Therefore, the music may assume a music-identity that may also be a contribution as a cultural form.
The core ensemble is presented as 6 members consisting together with On, as leader and guitarist, a backing vocalist/dancer, 2 horns, drummer/percussionist and an e-tron bass. The society of djuke musicians make up the 'Famous Original Djuke Music Players'.
Recordings dedicated to djuke music have featured Luther Thomas, (sax-oholic), Marie Afonso, (Zap Mama), Jojo Kuo, (Fela Kuti), Juini Booth (Tony Williams, McCoy Tyner), Francis MBappe (Mani Dibango), Andrew Lamb, (Marshall Allen), Radu Ben Judah, (Sun Ra), Felice Rosser (Faith), along with Tess Marsalis, Tomchess, Nick Gianni, Electric Meg Montgomery, Wakesha, Saco Yasuma, Dalius Naujo, Daniel Jodocy, Bopa King Carre, Welf Dorr, Greg Lewis, Adam 'Atom' Feller, Kadiatou Sibi, Thierno Camara, Mimi Kamara, and Tom Augsberger.